Nothing says spooky like abandoned buildings and old hotels! Here are some pictures and articles of haunted buildings to get that inspiration going for the perfect horror setting: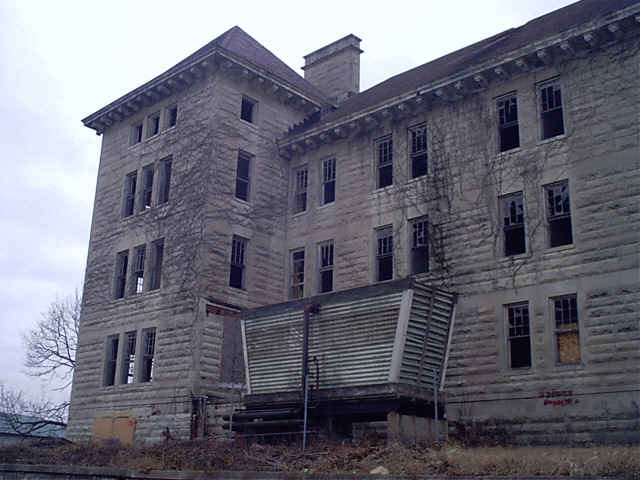 http://www.hauntedhovel.com/bartonvilleinsaneasylum.html
Normally, Rebecca Jordan will take all the free TV exposure she can get for the psychiatric hospital that she's turned into a tourist attraction known as the Trans-Allegheny Lunatic Asylum.
SyFy's Ghost Hunters. Travel Channel's Ghost Adventures and Ghost Stories. Discovery's Forgotten Planet. She even hosted an episode of CMT's My Big Redneck Wedding on the 307-acre grounds.
But she drew the line when producers for A&E's Paranormal State called. They didn't want to meet the ghosts behind the two-and-a-half foot thick walls, she says. They wanted to get rid of them.
Creaking floorboards, icy drafts, loud banging noises, the bloodcurdling screams of fellow guests…these are normally the sort of things we'd be straight on the phone to hotel reception to complain about but come 31st October and they're suddenly selling points, a must for any ghostly getaway.
So if you fancy experiencing a night at a haunted castle - complete with torture chamber and dungeon - or sharing your suite with the ghost of Marilyn Monroe, TravelMail has put together a compendium of haunted hotels from around the world for that extra special Halloween holiday...
Inside the shiny new hospital, a tormented soul stalks the wards and corridors.
Yet this is no ill patient, overworked junior doctor or beleaguered NHS trust executive.
It is a ghost – or so says a leaked memo from a manager.
Several workers at the £334million Royal Hospital in Derby have apparently been scared witless by the apparition, which they describe as a man dressed in black and wearing a cloak, who can walk through walls.